Paris Photo at the Grand Palais Éphémère
Publishers sector, booth SE12
We are happy to meet you at Paris Photo, at the Grand Palais éphémère.
We will held during these days a series of meetings and singings with invited authors, as well as  and the "Prix du Livre 2021 Paris Photo – Fondation Aperture" bookstore, which we are organizing for the first time within the fair, with a selection of works in competition in 2021, in each of the three categories: First Photobook, Photobook of the Year, Catalog of the Year.
OUR EVENTS :
Friday, November 12—6 p.m .
Ann Marks, author of the event-biography Vivian Maier Révélée, will give a talk at the fair's auditorium as part of the Elles X Paris Photo program.
Free entry, subject to availability, for visitors with entry tickets.
Saturday November 13—3 p.m
Journalist Arnaud Robert and photographer Paolo Woods are guests of The Eyes Talks. They will present the Happy Pills project.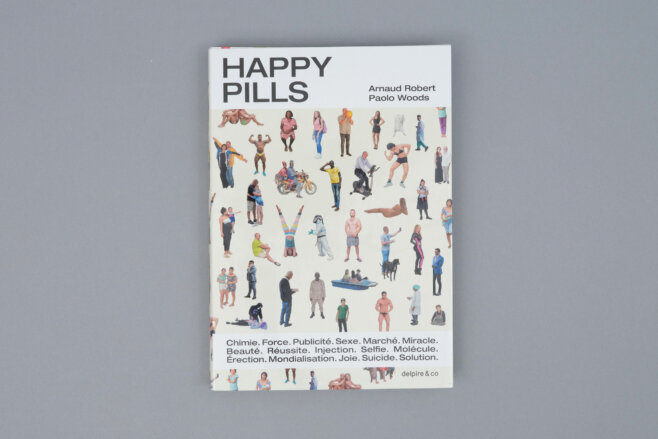 Happy Pills
Arnaud Robert / Paolo Woods
39,00€
Add to cart
BOOK SIGNINGS
Thursday 11—4 p.m .
-Clara Bastid and Marie Robert: JAZZ POWER!
-Susan Meiselas: EYES OPEN / LEARN TO SEE
Friday 12 —4 p.m .
-Nominees and winners of the Paris Photo – Fondation Aperture Photobook Awards 2021
Friday 12—7 p.m
-Ann Marks: VVIAN MAIER RÉVÉLEE
Saturday 13—3 p.m
-Caroline and Cyril Desroche : L.A STANDARDS PORTFOLIO
Saturday 13—3:30 p.m.
-Arnaud Robert and Paolo Woods: HAPPY PILLS
Saturday 13—4:30 p.m.
-Ann Marks: VVIAN MAIER RÉVÉLEE
Sunday 14—3 p.m .
-Michel Frizot: REVUE NEUF
-RETHINK EVERYTHING.
Indicative program, subject to change.
Le Grand Palais Éphémère © Collection Rmn - Grand Palais © Patrick Tourneboeuf - Tendance Floue